KEAN Takes Care and Action in
Immigration
...and b-ring smiles :)
Greece and its Balkan neighbors were being overwhelmed by the flood of migrants arriving from Syria and other areas of conflict.
Each day some 2,000 refugees are arriving on Greece's shores. Most of them have fled the unrelenting civil war in Syria, now in its fifth year. Greece has been the arrival point for roughly half the 155,000 people who have reached Europe this year, according to the International Organization for Migration.
"Smile" is an upcoming program by KEAN – Cell of Alternative Youth Activities, which aim to support perishable social groups especially the refugees, through a variety of creative projects.
Focusing on immigration KEAN aspires to bring "Smiles" to all refugees, kids and adults who live in Greece by helping them to rehabilitate.
"We would expect the E.U. to activate its emergency response because Greece is part of the European Union. Greece urgently needs help, and we expect Europe to step forward."
William Spindler

Profile and scope of the NGO'S work and it's major on-going activities
KEAN is a non-profit organization with a basic orientation of promoting human rights and social awareness of youth by focusing on the human values and sustainable development of the society. KEAN boasts an energetic and rich history of actions and activities at both national and European level, through which its team and volunteers have developed design and organising skills for the preparation and realisation of a diverse range of projects, including coorganisation of trasnational partnerships with other NGOs & Institutes, worldwide promotion of human values and joint actions for the protection of vulnerable groups.
Stay tuned for the forthcoming actions!
---
Migrants Flood Greek Island of Lesbos | The New York Times



Thousands of migrants have come ashore this summer on the Greek island of Lesbos, a popular tourist destination. Some of them have to walk more than 40 miles to get to the main port of Mytilene.
Greece: Refugees brave Idomeni rain as Macedonia completely shuts border


Heavy rain worsened already tough living conditions at the refugee camp near Idomeni, Wednesday, where around 14,000 refugees and migrants remain stranded as Macedonian authorities completely closed the border with Greece, according to reports.
Live scenes: Thousands of refugees force through Greece-FYROM border fence




Thousands of refugees are stuck on Greece's border with the Former Yugoslav Republic of Macedonia, overflowing from a packed camp into the surrounding fields, as they wait for FYROM authorities to let them continue their trek through the Balkans.
The Rising Tide: Europe's Refugees Wash Ashore in Greece
For thousands of desperate refugees, the dangerous first step on their journey to Europe could be their last. Samaritan's Purse teams are stationed at several primary stops across Europe distributing necessary supplies.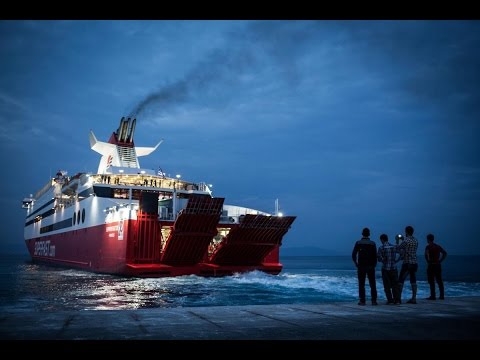 Greece: Refugees in Kos
UNHCR is stepping up its field presence in the eastern Aegean islands of Greece where, in recent weeks, an average of 600 people, mostly refugees, have been arriving every day by sea from Turkey.
Greece: A Harsh Welcome to Europe
Mojahed has finally arrived in Greece after a long, perilous journey from his home in Darfur, Sudan. But conditions in Patras are dire.
---